The digital age has brought with it endless conveniences and technological advances that make life easier. The ability to skip the trip to the mall and Buy Plus Size Ladies Fashion online is one of them! Now it's easier than ever to shop for the latest styles from the comfort of your home. All you have to do is search, buy, and wait for your new clothes to show up on your doorstep. Sounds simple, right? Not necessarily.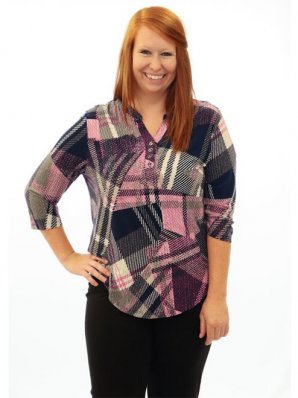 While shopping online for clothes definitely has its upsides, there are still some things to consider when you buy plus size ladies fashion online. When you're buying anything online, especially clothes, preparation is key! Four Seasons Direct wants you to get the most out of your online shopping experience, so we've created this handy guide of what to know before you click "purchase." Happy shopping!
Know Your Measurements
Before you buy plus size ladies fashion online, it's important to know exactly what size to shop for. Learning how to take your own measurements can take the guesswork out of online shopping, and can save you the hassle of having to return or exchange your clothes once they've been shipped to you. Invest in a soft tape measure and look up a tutorial on how to take your own measurements, or have a friend help you measure your bust, waist, hips, and inseam. Keep your accurate measurements on hand when you're browsing the many plus size tops, shorts, capris, dresses, jackets, leggings, and more at Four Seasons Direct! When you've found the perfect piece to add to your wardrobe, consult a sizing chart to ensure your purchase will fit your unique shape.
Know Your Budget
As with any shopping trip, it's a good idea to establish a budget for yourself before you go digging for your new look. Your budget can be as big or as small as you want! Whether you're splurging on a whole new wardrobe or just shopping for a top or two for the new season, there are some budget factors to consider when you buy plus size ladies fashion online.
Many online retailers will charge an arm and a leg for shipping costs, or throw in extra delivery fees for online orders. In some cases, you will need to factor these extra charges into your online shopping budget. They can add up pretty quick! If you're shopping at Four Seasons Direct, no need to worry! We offer free shipping on purchases of $20 or more to help you get the most out of your online shopping experience. That means more money in your budget for stylish and trendy plus size tops, denim jeans, and more!
Get even more out of your budget by signing up for the Four Seasons Direct email newsletter. You'll receive updates on our latest and greatest products, as well as a head's up about upcoming sales and online discount coupons to use!
Know Your Style
Are you a classic kind of girl, looking for wardrobe staples like crisp white button-downs, high-quality blue jeans, and comfy tees and tanks? Or more of a rebel, experimenting with all sorts of patterns, styles, and shapes for your wardrobe? Whatever you're shopping for, Four Seasons Direct has you covered! With the wide selection of plus size clothing options and new arrivals coming to the store every month, you'll never run out of fun fashion choices and plus size pieces to choose from.
One of the best ways to narrow down your style is to create a vision board or mood board full of style inspiration. Compile your favorite outfits from your own wardrobe, or from magazines and social media, and use them as a jumping-off point to shop for your own clothes. Notice what makes an outfit stand out to you, like a funky sleeve or a well-fit cropped pant, and keep them in mind as you shop for your new clothes! Having a foundation of outfit elements to look for will help you hone in on your specific style and what's going to make you feel the most beautiful.
For more information about Women's Petite Clothing and Misses Tunic Tops Please visit: Four Seasons Direct.